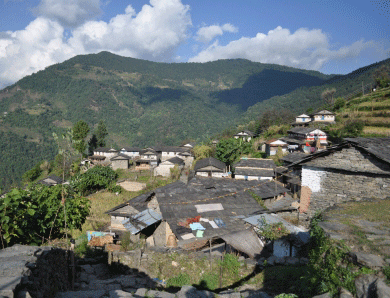 Tanchowk or Tonju (in local dialect) is a Gurung Village located northeast of Pokhara-Baglung Highway at Lumle VDC and two hour ride than an hour easy hiking from Pokhara. The village gives one of the best views of Annapurna south, Himalchuli, and Machhapuchre.
You can do a day hike or overnight trip. If you choose overnight trip, we start from Lumle and travel through Chandrakot from where we can explore magnificent view of Fishtail, Himal Chuli and Annapurna South.
We can visit other neighboring villages like Majhgaon (village in middle) or Patlekhet (flat rice field). There is a temple of Kanchhi Baraha (temple of local deity) in the middle of forest,  from where it gives one of the best panoramic view of Annapurna range.
Unfortunately, the village is being abandoned since people are migrating to cities for the job. Education system here is not practical with local life and farming is traditional that does not give enough production as well as labor shortage.